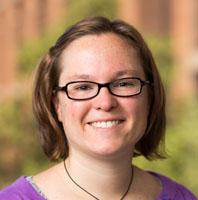 Pronouns
she/her/hers
Email
sbarbrow@umich.edu
Mailing address
2321-B Duderstadt Center
Ann Arbor, MI 48109
ORCID ID
0000-0001-8033-3945
About me
I am the Assistant Director of the Engineering Library and a liaison to the following departments:
In my role as liaison, I offer research and instructional support to students, faculty, and staff in CSE, ME, and NAME.  I regularly meet with students and faculty from these areas, so please reach out if you would like to chat about an assignment, paper, or any kind of project!
In my role as Assistant Director, I work with our engineering librarian team to support and align with the College of Engineering's Diversity, Equity, and Inclusion initiatives including the People-first engineering framework. 
I graduated with an MSI in Library and Information Services in 2011 from the University of Michigan School of Information. I also have an MSc in Ecology and Evolutionary Biology also from the University of Michigan. 
Languages
English
My links