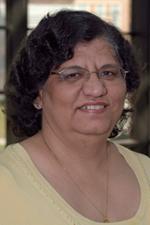 Pronouns
she/her/hers
Email
llalwani@umich.edu
Phone
734-936-2332
Office
2392 Art, Architecture, and Engineering Library
Mailing address
2392 Duderstadt Ctr
Ann Arbor, MI 48109-2094
ORCID ID
0000-0003-1881-2181
About me
I support the teaching, research needs for the following areas of Engineering:
Chemical Engineering
Macromolecular Science and Engineering
Materials Science and  Engineering
Patents and Trademarks
Standards
I have been with the Engineering Library since January 1995. I have an M.L.S. degree from the Catholic University of America and an M.S. in Chemistry from the University of Mumbai. I am also the coordinator for collections for Art, Architecture, Engineering library. Previously, I worked at Gelman Sciences and American Tobacco Company.
Please contact me if you have any questions or suggestions.
Languages
English
My links