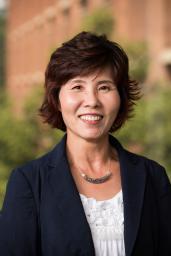 Pronouns
she/her/hers
Email
yunahs@umich.edu
Office
414 Hatcher Library North
Mailing address
414 Hatcher North
Ann Arbor, MI 48109-1190
ORCID ID
0000-0002-5801-5489
About me
I am responsible for developing the Korean Collection and providing reference services as related to Korean Studies. I select all types of materials (print, electronic, and visual) in English and Korean in support of the research and instructional programs on Korean Studies.   
My educational background is in Japanese Language and Literature (BA, Sungshin Women's University) and in Teaching Korean as a Second Language (MA, Yonsei University). I have received a Master of Library Science from the University of Alabama. Prior to coming to Ann Arbor in 2003, I worked at the Cleveland Museum of Art in Cleveland, Ohio as Asian Bibliographer. 
I serve on the executive committee of the Nam Center for Korean Studies. 
Data Profile
My expertise is on the Korean history, culture and language. I provide research consultations, instruction and collection development with researchers in Humanities & Social Sciences disciplines to support research and teaching in Korean studies. I'm particularly interested in library's roles in acquiring and disseminating data sets as a part of our collections to support digital scholarship.
My office phone number is temporarily disconnected.
Languages
English, Korean
My links