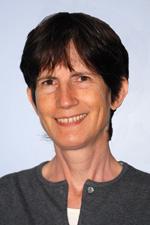 Pronouns
she/her/hers
Email
sgarrett@umich.edu
Mailing address
2321 Duderstadt Center
Ann Arbor, MI 48109-2094
About me
I manage the organization of and access to image collections originating in the Art, Architecture and Engineering Library. These collections are both physical and digital, comprising lantern slides, 35mm slides, 35mm black-and-white negatives, and their digitized equivalents. Our primary online collection, AAEL Images, presents images of art, architecture, and urban scenes from six continents. Other image collections include the AAEL Lantern Slides, Artists' Books, and John B. Cameron Collection of French Romanesque Architecture, the original versions of which are held in Special Collections of AAEL. 
My work with these unique visual resources involves attending to their archival preservation, cataloging them according to standards appropriate to the image and user needs, and overseeing their digitization. I also supervise student employees in various aspects of this work, giving them valuable experience and enhancing our collections.
B.A. History of Art, Wellesley College
M.A., ABD History of Art and Architecture, Brown University
My office phone number is temporarily disconnected while I work remotely due to COVID-19. Please contact me via email.
Languages
English, German, French
My links