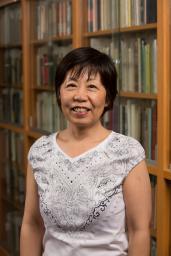 Pronouns
she/her/hers
Email
kyokotac@umich.edu
Phone
734-764-7774
Office
412 Hatcher Library North
Mailing address
412 Hatcher North
Ann Arbor, MI 48109-1190
ORCID ID
0000-0002-5267-0319
About me
Liaison for faculty in Japanese Studies and selector for Japanese language collection.
evaluation and selection of information resource
reference, research consultation, and supporting instructional programs 
cooperate with the Center for Japanese studies activities and projects
My expertise is on Japanese studies in the Humanities and Social Science fields.  I am knowledgeable about how scholarly communication is practiced in Japan, trends in publishing, vendors and academic organizations, and networked well among researchers and stakeholders in Japanese studies globally.  I have been the primary negotiator to bring Japanese commercial databases to the North American university libraries since 2000.  Chairs for the Japanese Material Committee of the Council of East Asia Libraries - CEAL (2005 - 2008), North American Coordinating Council for Japanese Library Resources - NCC (2010 - 2012), and NCC Cooperative Collection Development Working Group (2012 - present).
Education:
Master of Information and Library Studies, 1997, University of Michigan, School of Information
Master of Arts, 1990, Stanford University, School of Education (International Development Education Program with concentration in Japan)
Bachelor of Arts, 1982, Fairhaven College, Western Washington University, Sociology and Women's Studies
Bachelor of Arts, 1980, Tsuda University, Tokyo, Japan, International Relations
Languages
English, Japanese
My links