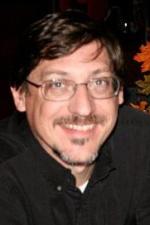 Pronouns
he/him/his
Email
rpettigr@umich.edu
Mailing address
205 Hatcher North
Ann Arbor, MI 48109-1190
About me
I'm a Senior Learning Technologies Specialist with the University Library's Connected Scholarship team, where I help faculty, instructors, and students incorporate effective technologies into teaching and learning. I have a Bachelor's degree in American History (Ohio University, 1987), and a Master's degree in Instructional Technology (University of Michigan, 1992).  As an instructional designer and part of the team who operate ScholarSpace (206 Hatcher Graduate Library), I consult with members of the University community to solve instructional problems, and I have special expertise in presentation and research poster design, audio/image/video editing tools, and dissertation formatting support.
Since its founding in 1995, I've been fortunate to have played an active role with the Teaching and Technology Collaborative, a grass-roots organization of U-M academic technology support groups which, among other things, hosts an annual week-long series of workshops and seminars called "Enriching Scholarship". 
My office phone number is temporarily disconnected while I work remotely due to COVID-19. Please contact me via email.
Languages
English